Exxon Mobil Corp. beat analyst estimates as a jump in earnings from its chemicals segment cushioned a loss in upstream.
First-quarter net income fell to $1.81 billion, or 43 cents a share, from $4.94 billion, or $1.17, a year earlier, Exxon said in a statement on Friday. The per-share result was 15 cents above the 28-cent average estimate of 19 analysts in a Bloomberg survey.
Chemical earnings increased 38 percent to $1.4 billion on stronger margins and higher sales volumes, capturing increased specialty and commodity product demand along with significant cost benefits from both gas and liquids cracking advantages at integrated sites, the company said in the statement. The downstream segment earned $906 million as global gasoline demand remains relatively strong.
"The organization continues to respond effectively to challenging industry conditions, capturing enhancements to operational performance and creating margin uplift despite low prices," Rex W. Tillerson, chairman and chief executive officer said in the statement. "The scale and integrated nature of our cash flow provide competitive advantage and support consistent strategy execution."
Decade Low
It was Exxon's weakest quarterly profit in more than a decade amid tumbling energy prices that have already cost the world's biggest non-state oil explorer its sterling credit rating.
Exxon disclosed first-quarter results before the opening of U.S. equity markets. Shares were up 0.5 percent to $88.45 at 8:27 a.m. in pre-market trading. The stock has advanced 13 percent this year. Among analysts who follow the company, Exxon has eight buy rating, 13 holds and six sells.
The 2016 capital budget has been cut by about 33 percent from last year, a bigger decline than earlier estimated. Despite those measures, full-year profit is expected to dip below $10 billion in 2016 for the first time since the company's historic acquisition of Mobil Corp. in 1999.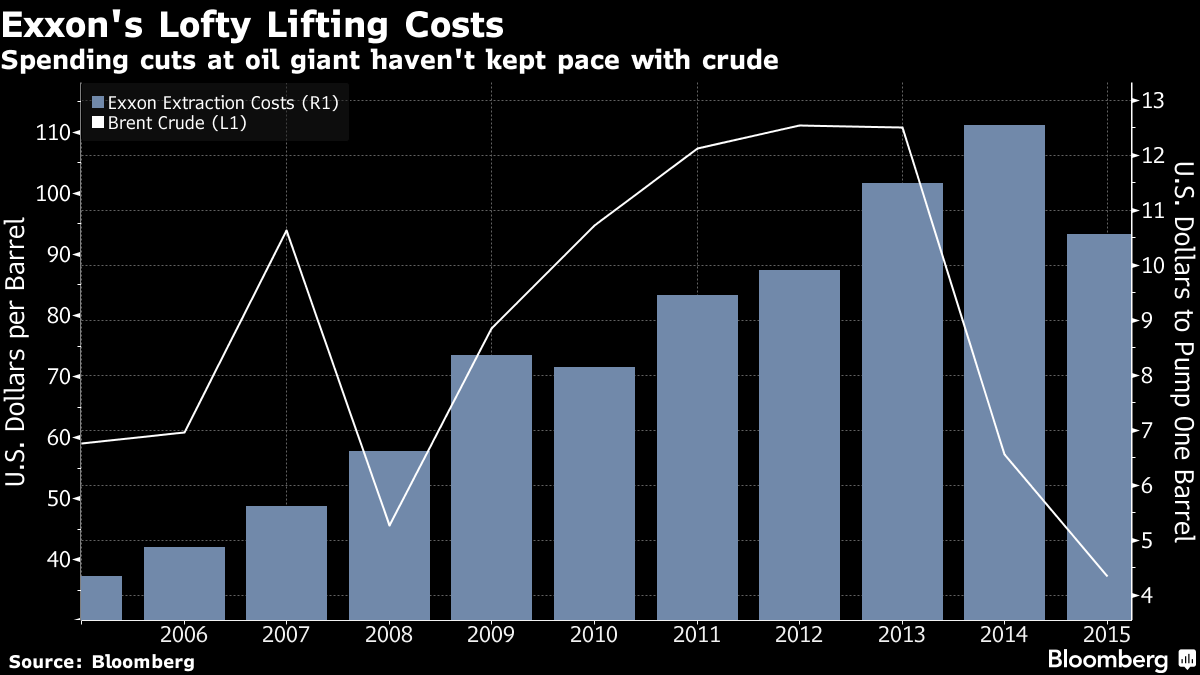 Brent crude, the benchmark for international oil sales, fell 36 percent to an average of $35.21 a barrel during the quarter from a year earlier, according to data compiled by Bloomberg. U.S. gas averaged $1.982 per million British thermal units, down 29 percent from the first quarter of 2015.
Despite the rout in crude markets, Exxon earlier this week raised its quarterly payout to stockholders by almost 3 percent to 75 cents a share. The pledge will cost the company $3.1 billion when the dividend is paid in June.